A Wide Range Of Services
To meet all of your health needs Medication
Pickup & Delivery of RXs
Durable Medical Equipment
Flu Shots & Immunizations
Med Sync
Travel Vaccinations
Diabetic Counseling
Specialty Pharmacy
Children's RX Flavoring OTC
Pain Medication
Cold & Allergy Meds
Complete Vitamin Lines
Oral Health products
Feminine Hygiene products
First Aid items
Contraceptive Aids
Hospital Grade Breast Pumps
Custom Fitted Diabetic Footwear
Compression Stockings
Pet Supplies
Toys & Games
Household Supplies Cards & Gifts
Cosmetics
School/Office Supplies
Infant Care
Hair Care
Shower and Bath items
American Greeting Cards
Yankee Candle
Jewelry
Handbags
Melissa & Doug
The Bearington Collection
Burton + Burton
Wind & Fire
Russell Stover
Music Boxes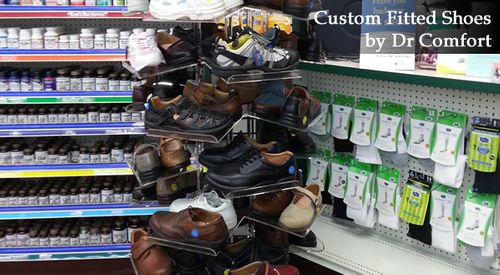 If you need diabetic shoes and custom molded inserts our foot care specialist at Midtown Pharmacy will fit you for them. Diabetic shoes maybe covered under Medicare. Call (201) 991-3454 for details.
Wash your feet daily. Dry carefully
Wear shoes that are designed to protect your feet from injury.
Inspect your feet daily for blisters, cuts and scratches.
Always check between your toes.
Shoes should be fitted by a foot care specialist and be comfortable at the time of purchase.
Customized comfort never looked so good. The healthiest shoes you'll ever wear.